RespecTable assisted and established at Ecolys®, the winning combination!

Helping you develop is what we do! The BEP stands alongside companies wishing to set up in a business park and/or boost their business. Discover the success story of RespecTable, the new owner of a plot at Ecolys®! 
Buying to grow better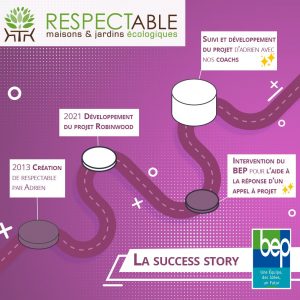 Adrien Meirlaen started his carpentry/cabinetmaking business in 2013. As he operates in short circuits and given his concern for the environment, in 2017 he gained the status of Certified Artisan through the Federal Public Service for the Economy and in 2018 he obtained the Bois Local label from the Walloon economic office for wood.
But the Namur businessman is not stopping there. In 2020, he developed 'LesPetitsDoigts', which specialises in mass-produced furniture and decorative elements in local solid wood and this year, with the help of the BEP, he is launching the 'RobinWood' project, a local robinia network that operates as a circular economy. 
FIND OUT HOW OUR ADVISERS ASSISTED ADRIEN 
A head full of plans, constant growth, a desire to settle: these are the ingredients that prompted this native of Namur to purchase a plot of land.
Ecolys®, the logical choice
This second themed park located at the approach to the Walloon capital focuses on sustainability. The founder of RespecTable therefore turned naturally to this place to set up his activities. The company keeps a close eye on its environmental footprint and decided, for example, to use a wood-fired boiler, dispose of its waste using adapted containers and hire staff close to the park in order to promote soft mobility. It therefore fits in perfectly with the sustainable model represented by Ecolys®
Find out all about this themed park
UNE QUESTION UNE DEMANDE ?

Contactez-nous !