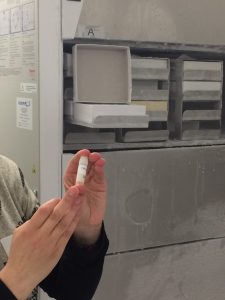 BELGIAN VOLITION HAS CHOSEN CREALYS – GAËTAN MICHEL TESTIFY
Created back in 2010, this project has obtained the support of the region in terms of funding its research. The company has achieved convincing results in just a few years' time with its method for the preventive detection of cancers: it is undergoing its final validation phase and has been awarded CE marking.
Representatives from VOLITION RX (USA), which is listed in New York, including Cameron Reynolds, President and CEO, and Singapore Volition (the original umbrella company) have supported their subsidiary company's project which brings the entire group's operational development to Wallonia. They all retain a unanimous stance on the positive image of Wallonia in the overseas Biotech industry.
What are the perspectives?
The Belgian Volition laboratories of today include ten researchers for validating biomarkers, however they will be in a position to accommodate up to 24. And that represents just one third of the building's surface area. The company opened Volition America in Austin last February following the A&M and AWEX economic missions in Texas. Belgian Volition plans to increase to 30 people by the end of 2018.
ACTIBEL MAKES A SIGNIFICANT INVESTMENT IN ECOLYS
This ambitious "Business Centre Actibel ECOLYS" project can be seen at the entrance to the Ecolys financial business park, and is located on a plot of more than three hectares. It is located by the entrance to the ECOLYS business park, and boasts a multi-functional 30,900 m² building, which consists of:
the ROPS sales room on two levels
a 10.500 m² Business Centre offering variable office spaces
meeting, conference and event rooms, … up to 600m²
a brasserie/restaurant with a capacity for up to 300 people
a 120-room hotel giving a breath of fresh air to the town of Namur which is used for hosting important groups (international trade fairs, organisations such as the KIKK Festival,…)
a car park with 700 spaces
but also a shared work space and a fitness area which is available to its users.
It cannot be denied that this type of property complex has a certain attraction when it comes to convincing new business to expand within the Namur region. Office space at reasonable rents will be available from 2018. Do get in touch!
Interview with Paul de Sauvage
(FR)
Glutton, un aspirateur nouvelle génération et des investissements à Mecalys®
Christian Lange, fondateur et créateur de la société Glutton, a développé l'aspirateur de déchets urbains en 1994, répondant ainsi au besoin de propreté des villes.
En 2007, l'entreprise en pleine expansion s'installe à Sclayn dans de nouveaux locaux afin de répondre à des demandes de plus en plus nombreuses. et le marché « industries » est développé, le Glutton® Electric permettant d'aspirer les déchets à l'intérieur des bâtiments.
Aujourd'hui, c'est une nouvelle génération d'aspirateur qui voit le jour, le Glutton® Zen®, 100% électrique afin de répondre aux besoins de ses nombreux clients.
Glutton® en chiffres, c'est:
plus de 5000 villes équipées, une présence dans plus de 60 pays et sur 5 continents.
quelques 200 fournisseurs, 90 sous-traitants, 60 membres de personnel, dont une cellule R&D composée de pas moins de 9 ingénieurs …
La société Glutton investit dans le parc d'activité économique Mécalys®, situé à Andenne, dédié au process industriel, où le premier coup de pelle a été donné ce 21 août 2017.
(FR)
SUCCESS STORY – FYTOFEND PRODUIT SES BIOPESTICIDES À CREALYS®
UN BIOPESTICIDE DANS L'AIR DU TEMPS
Fytofend est une entreprise spécialisée dans la protection des végétaux par éliciteurs (stimulateurs naturels des défenses des plantes). Elle produit et commercialise, via des distributeurs, ces produits naturels qui offrent une alternative aux pesticides actuellement employés. Avec des produits spécifiques pour chaque culture (pommes, fraises, raisins, bananes, tulipes notamment), les agriculteurs disposent d'une solution qui renforce la protection de leurs cultures tout en garantissant la préservation de la santé des consommateurs et de l'environnement.
ACHAT D'UN TERRAIN À CREALYS®
Après avoir occupé pendant 5 ans un espace d'ateliers et de bureaux à Regain (hall-relais basse énergie à Crealys®), Fytofend s'est installé en avril 2019 dans un nouveau bâtiment à Crealys®, le parc scientifique du BEP.
DEUX ALFERS
Fytofend a par ailleurs été deux fois lauréat des Alfers :
Prix de l'entreprise responsable en 2010
Prix de l'entreprise innovante en 2016
(FR)
TÉMOIGNAGE DE RAFFAËL BUONATESTA