Works starts on TRAKK, Namur's creative hub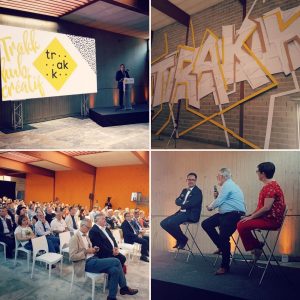 A NEW TRAKK IN 2019
Temporarily housed in a building owned by the University of Namur (UNamur) since 2014, TRAKK will move to its permanent location at number 13, Avenue Reine Astrid in mid-2019. Its new home will be a fully renovated and purpose-designed space measuring 2,000 m², a stone's throw from Namur city centre.
WHAT IS TRAKK?
TRAKK was an initiative born out of a partnership between the BEP, KIKK (a non-profit association promoting digital and creative cultures) and the University of Namur. It was set up in 2014 and temporarily housed at 118 Avenue Reine Astrid in Namur, in a building owned by the University of Namur.
TRAKK is a multidisciplinary co-creation space that aims to spark the emergence of creative projects throughout Namur. The venue offers a fablab, offices for young creative start-ups and a range of creative spaces.
TRAKK aims to become a network, a community of people that can work together by breaking down barriers between disciplines, to spark new project ideas. It is also a place of observation and experimentation for University of Namur researchers, to observe, analyse and understand creative processes and managerial procedures.
TRAKK: WHO IS IT FOR AND WHY?
TRAKK'S initial location enabled it to expand its activities and community. Its move to new, larger and more suitable premises offers more potential to:
Bring together different groups (entrepreneurs, elected officials, students, artists, designers, researchers, architects, engineers, coders, individuals etc.);
Encourage innovative projects to emerge, such as 'smart city' projects and projects for the benefit of its residents;
Embody the 'smart city' concept for Namur, in its role as capital city of the Wallonia Region, in parallel to the 'NID' (Confluence) Smart and Sustainable Namur project and the Belgian pavilion from Expo Milano installed at the Citadel of Namur.
TRAKK TOMORROW
TRAKK's new building will still be located at Avenue Reine Astrid, but instead at number 13. This is the former athletics hall of the University of Namur (UNamur). Acquired by BEP Expansion Economique in late 2016, it is being fully renovated by the BEP through 2014-2020 ERDF Funds, as part of the 'Namur Innovative City Lab' portfolio.
With the NID, a public space open to citizens and visitors, and the Belgian pavilion from Expo Milano being installed at Namur's Citadel (for training and for schools), TRAKK, which focuses on innovation and experimenting with new projects, completes the infrastructure that positions Namur as a 'smart city'.
THE ARCHITECTURAL DESIGN OF THE NEW TRAKK
A new mezzanine floor will be installed on the existing structure, and an annex will be added to the right-hand lateral façade. The existing pedestrian crossing between Avenue Reine Astrid and Quai de Salzinnes will be retained. Its recessed position in relation to its neighbouring buildings makes it possible to preserve the existing light and to minimise the impact of the work.
The interior layout has been designed to allow future TRAKK users to benefit from open spaces and to encourage co-creation. Rather than forcing users to work in a particular way, a multitude of work modes are available, to meet all needs: workstations, high desks, sofas, stools etc. A flexible amphitheatre will also be built.
The building will also present innovations in SmartBuilding (digital control of heating and ventilation facilities, management of energy consumption, fire detection, intruder protection, access control, lighting etc. All adjustable remotely and according to occupancy).
KEY FIGURES ABOUT THE NEW TRAKK
2,000 m² available to businesses
3 levels 
120 individual workstations
15 private offices 
2 co-working spaces measuring 220 and 140 m²
6 meeting spaces
An amphitheatre 
A 40 m² fablab 
Creative labs and studios
3 terraces 
A cafeteria and a chill-out lounge
TRAKK IS AN INITIATIVE OF THE BEP, KIKK FESTIVAL AND UNAMUR, WITH THE SUPPORT OF WALLONIA AND THE ERDF.
UNE QUESTION UNE DEMANDE ?

Contactez-nous !