THE SHORT CIRCUIT FACTORY BY PAYSANS-ARTISANS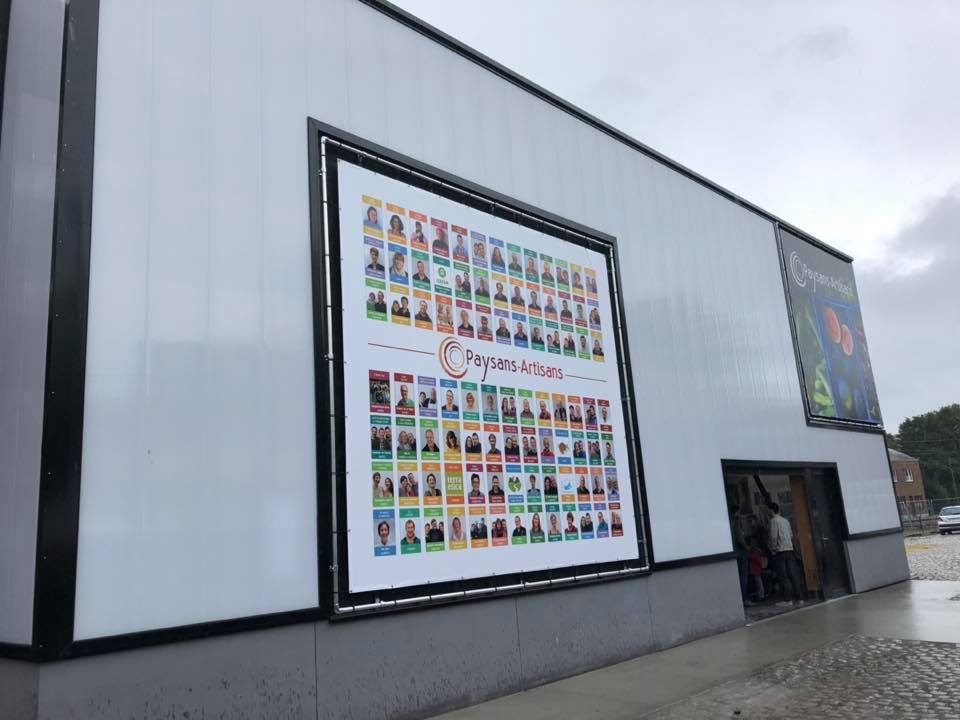 The Paysans-Artisans real-estate project at the Ecolys® business park is born. Watchwords: short circuits, local producers, pooling.
THE 'FABRIQUE CIRCUIT COURT'
The Paysans-Artisans cooperative now employs 38 people and comprises around a hundred producers and 700 members. In order to meet its growing needs, Paysans-Artisans decided to create a real-estate project called the 'Fabrique Circuit Court' at Ecolys®. This covers an area of 2,760 m² intended for workshops, storage zones and a logistics centre. The objective: to provide outlets for small-scale producers without having to go through negotiations with the mass distribution sector and to pool storage, transport and distribution costs by means of shared logistics and labour.
FIVE COOPERATIVES CREATED TO RUN FIVE PROJECTS
A VEGETABLE PROCESSING PLANT
Using surplus and off-size or damaged produce, fruit and vegetables will be washed, peeled and cut for customers such as restaurants, community kitchen, processors, etc., and to prepare warm meals, soups and sauces, jams, compotes, etc.
A BOTTLING PLANT
The Paysans-Artisans real-estate project at the Ecolys® business park is born. Watchwords: short circuits, local producers, pooling.
Products such as milk, yoghurt, honey, jam, spreads, preserves, fruit and vegetable juices, soups, sauces, ready meals, salads, hummus, pâtés, rillettes, etc. from local farmers will be stored in jars, sterilised and pasteurised before being sold under a common brand name. The jars in various sizes and shapes, washing, storage and delivery will be pooled.
AN ABATTOIR
Facilities will be available for meat poultry, rabbits, lean ducks and guinea fowl to be slaughtered and cut here, either by the producers in the cooperative or by breeders who will be able to rent the premises and benefit from the assistance of specialised workers from the Employers Group of the 'Fabrique Circuit Court'.
A BUTCHER'S AND COLD MEATS WORKSHOP CALLED 'LES PAPILLES RAVIES'
The future premises will be shared with caterers and butchers to cut meat from cattle, sheep, pig and goat breeders and to produce various cold meat products.
ÉTHIQUABLE, THE ETHICAL COOPERATIVE
In order to bring their activity closer to consumers, the team of nine people at Éthiquable, a cooperative company specialising in the fair trade and organic sector, is to join forces with the Fabrique Court Circuit. This will enable it to double its storage area and provide controlled temperature conditions for its dry grocery products with 100% controlled origin.
INVESTMENTS WORTH EUR 2.5 MILLION
The cost of this project amounts to EUR 2.5 million, provided on the one hand by each of the cooperatives and on the other by partners such as the Walloon Public Service for Agriculture, which is taking part in the context of its support programme for short circuits, known as 'agricultural relay halls', as well as the Société Wallonne d'Économie Sociale Marchande and the Triodos bank.
The work is scheduled for completion at the end of the first half of 2020.
UNE QUESTION UNE DEMANDE ?

Contactez-nous !