Cancer control: a new player at CREALYS® called "BELGIAN VOLITION"
INAUGURATION OF SOME BRAND NEW LABORATORIES
Gaëtan Michel, a graduate of UNamur and manager of Belgian Volition, presented the new facilities of the company just set up on Créalys® Science Park in Gembloux to an audience composed for the most part of American and Asian partners (from Singapore, for instance), but also some Walloon and Belgian partners and, of course, the company's thirteen employees. Representatives of the NYSE-listed VOLITION RX (USA), including its board chairman and CEO Cameron Reynolds, and Singapore Volition (the original parent company that now oversees the group) backed the project of their subsidiary in Wallonia, which is responsible for the group's operational development. The positive image of Wallonia's biotech sector abroad was shared by one and all.
http://volitionrx.com/news/video-gallery Feeling cramped in their offices at Namur University, where they had started their business, the company's Belgian managers turned to BEP, which had already offered them its services a few years earlier, to find the right solution for their needs. Words were quickly followed by deeds.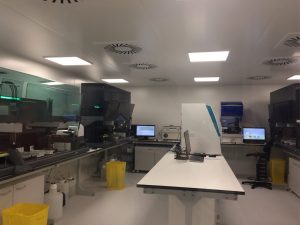 Mr Michel gave lengthy thanks to all his scientific, industrial, and financial partners, as well as to BEP, NamurInvest, Sofinex, AWEX, the Walloon Region and others, for their corporate support services.
http://volitionrx.com/news/video-gallery
A SIMPLE DIAGNOSTIC SOLUTION CERTIFIED "CE"
Belgian Volition's project to develop a simple colorectal cancer screening technique was launched in 2010 and immediately got support from the Walloon Region to finance the research. The company got conclusive results, in barely a few years, with its preventive detection method (now in its final validation phase), as a result of which it received the CE trademark. This immunological screening method identifies nucleosomes from epigenetic modifications (that is, changes throughout the genome). Its rivals' complementary techniques are based on DNA mutations and sequencing, which requires much larger amounts of blood.
A simple drop of blood suffices for Volition's colorectal cancer screening test, thus avoiding a whole battery of more intrusive tests and limiting, as a result, public health expenditures as well. Of course, all the testing is overseen by medical professionals, who must be able to interpret each individual situation and help the patient during this often traumatic phase.
A national campaign will be kicked off in Denmark in 2018 to provide Belgian Volition with 90,000 human tissue samples to detect cancers that may develop at various intervals. So, tests will be carried out at three different times to follow the development profiles of any cancer that may be found. Thanks to this work, the company will have a large tissue bank stored in special freezers at its Créalys® facility.
Other initiatives of the same type will follow, depending on local laws (analyses done by automata or at Belgian Volition, for example). After that, the company will investigate similar approaches to screen for prostate, pancreatic, and lung cancer, according to market needs.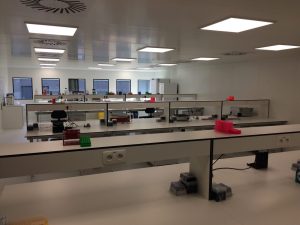 PROSPECTS FOR GROWTH?
Wallonia is characterised by strong support for R&D, outstanding hospitals such as Mont-Godinne near Namur, the competitiveness cluster Biowin, training centres such as Cefochim, a good pool of skilled personnel, scientists and technicians to choose from, and so on.
Today, ten research scientists are working on validating biomarkers in Belgian Volition's laboratories, but there is room for twenty-four (and that's only a third of the building's square footage), and Belgian Volition plans to up this figure to thirty between now and the end of 2018. Volition America was opened in Austin, Texas, last February, in the wake of AWEX economic missions to Texas A&M University.
More information:
http://volitionrx.com/news/press-releases/volition-opens-a-new-research-and-development-facility-in-belgium-with-a-state-of-the-art-purpose-built-laboratory
UNE QUESTION UNE DEMANDE ?

Contactez-nous !