SOCIAL DISTANCING THANKS TO A NAMUR-BASED COMPANY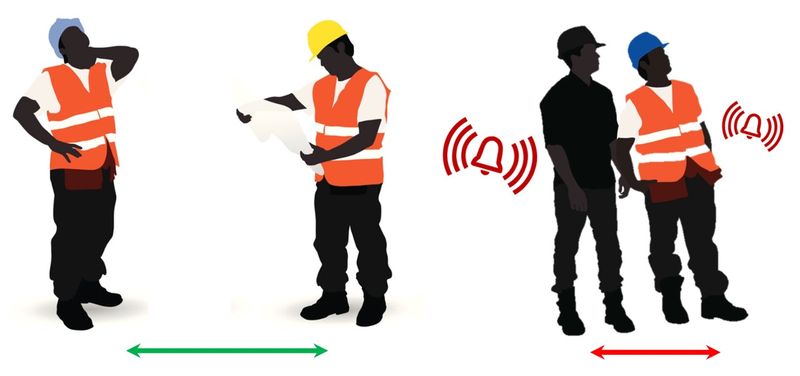 The ministerial decree on the emergency measures to curb the spread of the Covid-19 coronavirus imposes a whole host of measures on businesses. In particular, these measures include social distancing, that is maintaining a distance of 1.5 metres between each individual.
But how can you make sure that a distance of 1.5 metres is actually maintained? How can employers introduce this distancing and ensure that it is respected?
A SMART BRACELET
CGEOS Creative Geosensing SPRL, a Namur-based company with unique expertise in the field of geometric, topographical and industrials measurements as well as indoor positioning, offers us this solution: a UWB tag fitted on a bracelet and supplied by a long-lasting built-in battery (12 hours).
A tag is a form of metadata, a key word or term associated with/assigned to the information (for example, an image, an article or a video clip) which describes a characteristic of the object and enables information containing the same key words to be grouped together easily.
UWB or Ultra Wide Band is a wireless connection that is more efficient than Wi-Fi and Bluetooth and more secure, which could promote the development of new services and uses.
The principle: once wearers enter a critical radius (< 1.5 metres), their tag bracelet emits a sound signal which warns them, so that they can then move away from one another immediately. This solution complies with the General Data Protection Regulation (GDPR) as it does not require any tracing or internet connection. It therefore guarantees the anonymity of individuals in respect of one another.
THE RESULT OF BELGIAN-CHINESE COOPERATION
The Province of Namur has been twinned with the Province of Jiangsu in China since the year 2000. The company Nanjing Woxu Wireless Co, Ltd, established in 2012, is located here. This company is considered the world's best manufacturer of wireless, high-precision positioning chips, mainly using UWB, Wi-Fi and GNSS.
The partnership between CGEOS Creative Geosensing SPRL and Nanjing Woxu Wireless led to the development of this smart bracelet. It is one of the results of the collaboration between these two provinces.
LIKE TO KNOW MORE?
Visit the CGEOS Creative Geosensing SPRL website
UNE QUESTION UNE DEMANDE ?

Contactez-nous !