2019: A HISTORIC YEAR FOR BUSINESS RECEPTION INFRASTRUCTURES IN THE PROVINCE OF NAMUR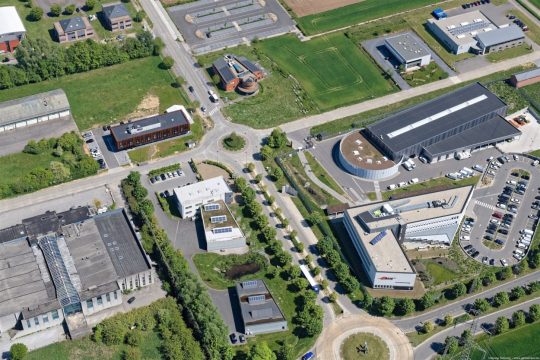 2019 was a record year for BEP Expansion économique, as the best results for the past ten years were recorded in terms of new businesses established in the parks and the number of jobs these businesses represent, as well as in terms of surface areas acquired or investments made for the projects implemented.
2019 COMPARED WITH 2018
In 2019, BEP Expansion économique sold 37 sites (compared with 24 in 2018). Together these accounted for a surface area of 25.3 ha (compared with 8.75 ha in 2018), investments worth EUR 70.240 million (compared with EUR 17.422 in 2018) and some 527 jobs consolidated or to be created (compared with 270 in 2018).
The 37 sales include 12 extensions of existing companies and 13 companies from outside the Province of Namur.
Altogether the new acquisitions, added to the companies which obtained premises either by purchasing or by renting buildings or parts of buildings within our business parks, represent a total figure of around 75 companies newly established or in the process of settling in the parks and incubators. The investments involved amount to EUR 90 million.
TOP THREE PROJECTS 2019
In terms of investment, the largest is the extension of Puratos (Seilles), representing a sum of EUR 15.5 million, followed by Carlier Bois (Ecolys) with EUR 11 million currently being invested. In third place lies the TEC (Walloon public transport company – Mecalys) with a project worth EUR 10 million.
In terms of jobs (consolidated or to be created), the establishment of bpost in La Houssaie led the way in 2019, creating 112 jobs, followed by the TEC (75 jobs) and Carlier Bois (44 jobs).
THE SUCCESS PARKS
The 'success' parks are: Ecolys (six new businesses established, 100 jobs and investments of EUR 18 million) followed by the three Andenne parks (Seilles, Mecalys and La Houssaie) with seven new businesses established, 284 jobs and investments of approximately EUR 39 million.
The first sales were also recorded in the brand new Havelange park (three sales in 2019).
SPACES STILL AVAILABLE
At the end of 2019, the occupancy rate of the business parks stood at 90%.
Just 17 of the 35 parks in the region still have land available:
Achêne, Auvelais, Chastrès, Fernelmont (less than 2 ha);
Ciney, Baillonville-Nord, Havelange, La Houssaie, Mornimont, Sorinnes (between 2 and 5 ha);
Sainte-Eugénie and Tamines (5 to 10 ha);
Beauraing and Rochefort (10 to 20 ha);
Crealys, Ecolys and Mecalys (over 20 ha).
TEMPORARY RECEPTION BUILDINGS
Since 1986, BEP Expansion économique has built 46 reception buildings to be rented to newly created businesses. Today, the Intermunicipal company still has 19 relay halls (110 modules) and nine business centres (3,000 m² of office space).
These infrastructures provide accommodation for 83 occupants and 391 jobs divided up as follows:
Relay halls: 40 companies and 204 jobs (90% occupancy rate);
Business centres: 38 companies and 171 jobs (65% occupancy rate);
TRAKK (before relocation): 5 companies and 16 jobs (100% occupancy rate).
Two buildings were sold in 2019: the Seilles relay hall, sold to Puratos, and that of Baillonville, sold to the company Tilman.
IN CONCLUSION…
Clear progress was recorded in the results for 2019 compared with the previous year. Overall employment in our business parks rose again, with an additional 310 jobs. The establishment criteria as a whole are at levels unrivalled for ten years in terms of:
Number of real-estate transactions;
Number of jobs consolidated or to be created;
Investments to be implemented;
Total surface area acquired.
Added to this is the excellent overall outlook for 2020, with 70 projects in the portfolio, representing around 570 jobs and investments of EUR 80 million (situation as at mid-February 2020).
AND TOMORROW?
By 2023, five new business parks will be available for commercialisation: Care-Ys (Bouge), the extension of Ciney-Hamois, Cit-Ys (Belgrade), Mariembourg and Anthée. These five parks represent a surface area of 106 ha and have the potential to welcome 235 companies and 2,200 jobs.
In the longer term (2025), two new parks will be added to the list: the Crealys extension covering 50 ha and that of Mettet covering 15 ha. These two parks will be able to welcome around 130 companies, representing 1,300 jobs.
Alongside the creation of additional space, BEP Expansion économique also takes care to follow up its investments in current business parks. New infrastructures have been created in Beauraing, Ciney-Lienne and Fernelmont (new roads within the park, roundabout and storm water basin). An overall plan to revitalise the Rochefort park is underway, focusing mainly on the landscaping and fibre optic equipment.
UNE QUESTION UNE DEMANDE ?

Contactez-nous !