GLUTTON®, a new generation of vacuum cleaners and investments in MECALYS®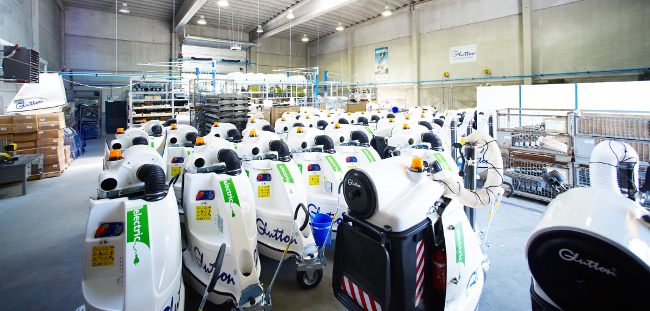 Christian Lange, founder of Lange Christian S.A. and creator of the Glutton®, developed his urban waste vacuum cleaner in 1994 to meet the needs of cities to keep their streets clean.
The expanding company then moved to new premises in Sclayn in 2007 to respond better to the steadily rising demand and began working on solutions for the growing "industries" market. The result was the Glutton® Electric vacuum cleaner to clean up waste inside industrial buildings.
Today, a new generation of vacuum cleaner has come on the scene with the 100% electric Glutton® Zen®, designed to meet its customers' ever more demanding needs.
Glutton® in figures:
More than 5,000 cities using Glutton® street cleaners in more than 60 countries on five continents.
Some 200 suppliers, 90 subcontractors, and 60 people on the payroll, including an R&D unit of no fewer than nine engineers!
Lange Christian S.A. is investing in the Mecalys® Business Park, in Andenne, which is dedicated to industrial processes. Ground-breaking on its new site took place this 21 August 2017.
LANGE CHRISTIAN S.A.: first enterprise to purchase a plot at MECALYS®>
Ground has just been broken on the construction site for Lange Christian S.A.'s new operating facility at Mecalys®, the Walloon business park dedicated to industrial processes. The company's CEO, Christian Lange, dug up the first spadeful of earth this past 21 August. The company also hosted a visit by the Ambassador of Finland on 11 October: http://www.bep-entreprises.be/actualites/visite-de-lambassadeur-de-finlande-chez-glutton/
GLUTTON®: Twenty years of steady growth
The company Lange Christian S.A. — designer of the Glutton® urban vacuum cleaner — has grown steadily over the past twenty years and Glutton® urban vacuum cleaners are currently keeping streets clean in more than 5,000 cities around the world. The release in late June of a new four-wheeled sweeper, in addition to steadily rising sales, prompted Lange Christian S.A. to search for a new site for its operating facility. The company's CEO is adamant about keeping its manufacturing and assembly operations in Wallonia, hence the decision in favour of Mecalys®. What is more, the company hopes to hire some 100 people over the next three years.
A site at MECALYS®
The company thus purchased a two-hectare plot at Mecalys® — the Walloon business park dedicated to industrial processes that straddles the municipalities of Andenne and Fernelmont — in order to build a new building comprising:
• a 5,400 m² industrial hall for assembling and warehousing its products and an R&D lab and
• 1,200 m² of office space for its white-collar staff and seminar rooms.
Lange Christian S.A. will be welcoming its global clientèle on the site starting in late 2018. It thus wants to make this building a true business card, notably in terms of its environmental features and sustainability.
URBAN VACUUM CLEANER
The Glutton® urban vacuum cleaner is an easy-to-handle mobile unit capable of sucking up all types of urban waste through a 125 mm-in-diameter hose. Its "big brother", the Glutton Zen®, is a 100% electric four-wheeled street sweeper that has been on the market since June.
GLUTTON® IN FIGURES
• Present in more than 60 countries;
• 200 suppliers;
• 90 subcontractors;
• more than 10,000 technical drawings since start-up and the first machine some twenty years ago;
• 60 people on the workforce;
• an R&D unit composed of nine engineers.
MECALYS®
Mecalys® is a business park for enterprises involved in mass production, the development of machinery, automation, robotics, electronics, mechatronics, design and engineering, prototyping, R&D, and much more. It also caters for service companies tied in with the sector, such as engineering firms specialised in industrial assembly and computation of material resistance, stability, etc., maintenance companies, and medium-sized logistic centres.
UNE QUESTION UNE DEMANDE ?

Contactez-nous !